So, on the way to Portland, our hosts call us and say they can't host us after all. Yikes! We are stepping out in faith! Then another person who said they couldn't host us let us know that they could. What!? God is definitely in charge here. We end up staying at a missional community near Reed College. The 14 people who lived there were so gracious and kind to us.
I'm just so thankful for the body of Christ and how people are happy and willing to do without always knowing or understanding the 'why'. Its a humbling experience when I chose to let God take care of the details, and trust those I don't know, but who are my brothers and sisters.
Then on to Seattle where we stayed for 3 nights with friends of friends. That was incredible because their story is parallel to ours. They are in a big transition now and we got to pray for them and give them some encouragement.
God is on the move, people!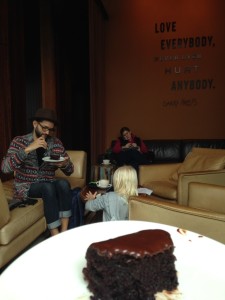 This is some warm chocolate cake that this cafe gave to all the customers in the store.